Submitted on 04/08/2020
Belgravia Residences – the pinnacle of high living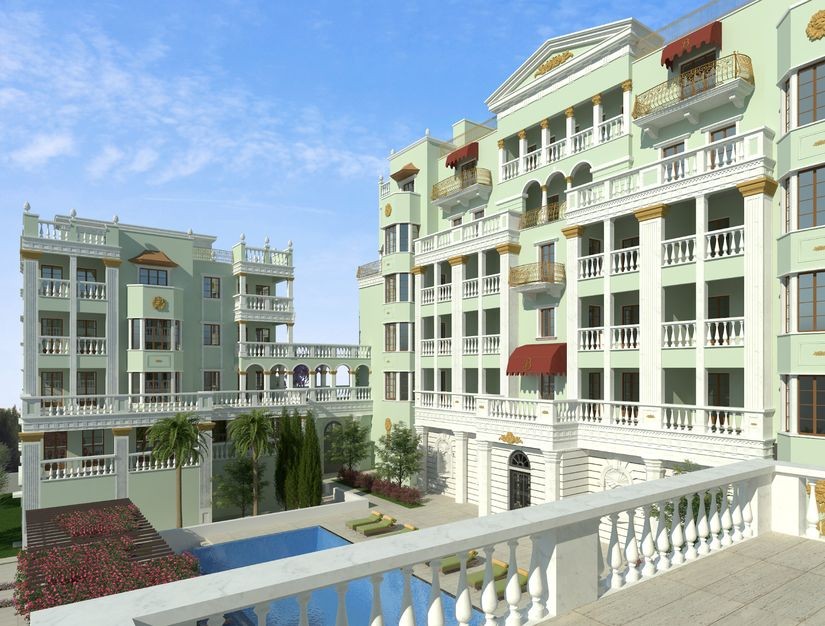 The first building in classic luxe style is being constructed in Limassol. This magnificent house of 24 apartments is designed in the classical revival style, based on the historical Roman and Greek precedent.
A combination of common elements such as columns, pediments, capitals and porticos and facades smooth surfaces with flat unadorned rooflines and squared window and door openings makes this complex conspicuous within the context of the neighbourhood given its unique main facade and other exterior elements.
The living spaces at Belgravia Residences are thoughtfully designed for comfort and convenience in mind and are stylishly appointed with the kind of premium materials and finishes you would expect.
The apartments feature many exterior elements underlining its luxurious nature. Most obvious is the quality and quality of wood finishes from delicate carved doors, staircases, marble flooring and door and window mouldings
This premier property has been exquisitely designed and refined for the pinnacle of an exclusive quality of living amongst a privileged few.
Belgravia Residences rebalances and harmonises everyday urban living. One feels serene in this distinguished location and home sized space. With well appointed facilities and high technology security systems, one can relax and unwind in the oasis of calm.
• Gatehouse.
• Covered car parking spaces with security access.
• Smart home automation technology.
• Access control to lobbies.
• 24 hour CCTV
• Cable and local television channel ready.
Seeing the significance of facilities and open spaces, the complex offers a large infinity pool and lush gardens.
• 15m swimming pool
• Jacuzzi
• Landscaped sculpture garden with water features and reflection ponds
• Fitness room with weight training machines and aerobics area.
Contact Us
How Can We Help?
Your message has been submitted successfully.